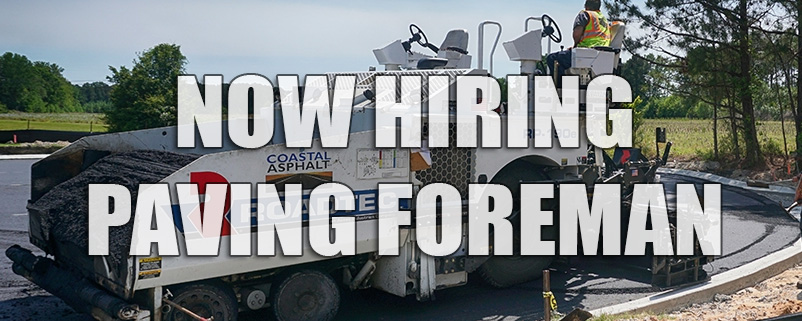 Paving Foreman
Job Overview
With the launch of Coastal Asphalt in 2008 as a family-owned and operated business, we began that journey of relying on honesty, hard work, and building a solid reputation in the community. We are committed to placing the customer first in every job, on every project. We strive to build growing relationships with clients and will do what it takes to not only win your business, but your trust.
The Paving Foreman is an essential position at Coastal Asphalt, ensuring the safety, productivity and quality of work performed by all members of the paving crew. This position will provide supervision while working alongside crew members to coordinate activities required to ensure timely and successful completion of various paving projects. We are looking for a self-motivated individual who values safety and collaboration as top priorities to serve as a member of the Coastal Asphalt family!

Duties and Responsibilities
Examine production schedules to identify and prioritize daily and weekly goals for each crew member to meet project requirements proactively
Assign specific daily tasks to all crew members addressing individual project requirements regarding safety, production, and quality
Train crew members to perform to all safety and operational standards
Calculate the asphalt materials required for each project and communicate with hauling personnel to ensure timely delivery from the plant
Collaborate with plant personnel to ensure asphalt material requirements for each project are met in a timely manner
Produce and maintain required records including but not limited to time, materials, and personnel records
Communicate with the Human Resources department to address all worker-related matters including but not limited to discipline and attendance
Coordinate inspections to meet all local and state regulations
Collaborate with subcontractors to meet project and regulatory requirements
Ensure all workspaces remain clean and free of hazards and debris at all times
Provide labor as needed including but not limited to working behind the paver with a shovel or rake, operating equipment, etc.
Educate crew members on proper care of all equipment and set measures to ensure equipment is handled properly daily
Comply with all company policies, procedures, and safety requirements.

Skills
Collaboration
Leadership
Communication
Must display excellent ability to interpret and follow directions
Must have the ability to work in a high production environment and respond quickly and effectively under pressure and deadlines
Position Requirements
Minimum of 5 years paving experience
Must pass an authorized drug test prior to employment
Must possess a driving record that meets company standards
Must meet company employment requirements including but not limited to background checks
Must agree to adhere to Drug-Free Workplace requirements including post-accident and random drug testing
Must maintain a good attendance and safety record
Must possess a valid driver's license with the flexibility to travel to various job sites within South Carolina and surrounding areas if necessary
Must have the ability to carry and lift 50 pounds
Must be able to stoop, bend, reach with hands and arms, crouch and kneel as required
Must be able to enter and exit equipment safely