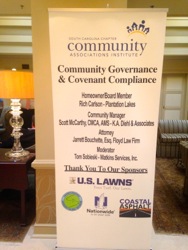 It was a fun and educational evening at the recent Community Governance and Covenant Compliance event hosted by the South Carolina Chapter of the Community Associations Institute at the Dunes Club in Myrtle Beach.
It's always great to be able to see friends and learn more about the clients we serve!
This is just one of the events of the SC CAI that seeks to enhance property values and the quality of life in community associations in South Carolina by promoting leadership, excellence, and professionalism through education, communication, and resources.
Coastal Asphalt is proud to be a member of the CAI as well as be able to help sponsor these wonderful educational and social opportunities.